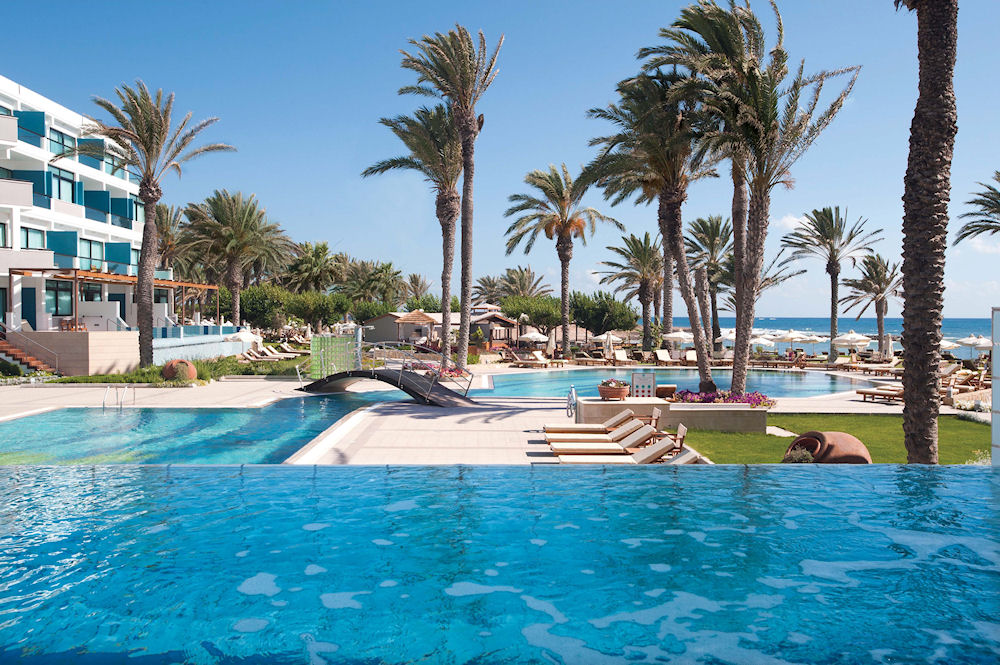 ASIMINA SUITES APRIL 2015
I was fortunate to visit the Asimina Suites this April for 5 nights.  From the minute you arrive, the personal service and attention to detail is second to none. Only 20 minutes from Paphos airport and a warm welcome that includes a one to one check in with a welcoming drink, what a way to start.
ACCOMMODATION
We stayed in a 1 bed roomed suite with full sea view.  The suite was perfect and very spacious. The main sleeping area with its huge and very comfortable bed was discreetly separated by a sliding door if required. The facilities included a full tea and coffee making section with complimentary water that was replenished daily.  Mini bar, bathrobes, slippers and spa flip flops along with luxurious toiletries were at your disposal.  Wifi is available throughout to hotel at no extra cost.
The lounge area of the suite housed another TV with DVD player, desk, full settee/sofa bed and chairs to accompany.  Plenty of hanging and draw space along with case storage area.  The lounge led out via full length patio doors to a lovely sea facing balcony. Both benefit from individual air conditioning.
FOOD
Breakfast in the main restaurant, the Estia, is the biggest selection I have ever experienced.  Everything was fresh and hot with an area where the chef would cook your eggs/pancakes etc to order. It naturally stocked gluten free and dairy free products for guests with allergies without the fuss of requesting such.  The buffet concept worked very well to enable you to pick and choose what you felt like each day.
This restaurant turned into the main buffet/table d`hote in the evening with the A`la Carte connecting through. We were fortunate to eat in both and found the food and service to be of a very high standard.  Nothing was too much trouble for the staff so you were able to comfortably ask for any changes or variations to what was on offer.  The Kymata Restaurant sits in the Gardens overlooking the sea.  We experienced some lovely lunches with beautiful views on a few occasions here and found the prices to be very reasonable.  During peak times this also offers meals in the evening so you can watch sunset.  The pool bar is also situated here along with a full "sun bed" service if you really can`t be bothered to move.  In the evenings there is the choice of the lounge bar where there is regular yet subtle entertainment.  The sports bar for a game of pool or a get together for a sporting event on TV or the more quiet VIP bars where you can stand on the terrace to watch the sun go down.
FACILITIES
There are a few pools to choose from, so of which have Jacuzzi jets in them.  There is plenty or space around the pool and into the gardens leading down to the beach.  There are plenty of sun beds with umbrellas, tables and towels provided free of charge.  In fact one day we counted out that there where nearly as many pairs of sun beds as there were suites.  No putting on towels to reserve! There are outdoor toilet and shower facilities that were, as everywhere, immaculately clean.  The spa was amazing.  "The massage I have ever had" was my daughters reply when she immerged looking very relaxed.  You also get allocated time to use their spa facilities before or after.  If you are feeling a little more athletic you can choose from table tennis, a well equipped gym, bike hire or if you are a runner then you have miles of promenade to embark on.
LOCATION
The hotel is about a 30-40 minute stroll to Paphos Harbour.  This is along a lovely fairly flat coastal path.  We loved to stroll down it both night and day.  There are cafes and hotels to stop off en route if you so wish.  The same route can be taken along the road on from the other side of the hotel.  This way also passes quite a few little shops and far more restaurants.  If you don't fancy the walk then there is a regular bus that leaves from just outside the hotel and will take you into both Paphos and Coral bay.  A taxi is quite reasonable also of which the reception staff are always happy to arrange this along with anything else you wish to see or do.
WHY ASSIMINA?
Apart from the amazing facilities as explained above, the pure quality and tranquillity is enough to entice you back time and time again.  The staff and customer service however are just the icing on the cake.  I have never felt more valued, comfortable and relax then staying here.  The only disappointing thing was checking out.  Although, on being presented with my personal, repeat customer membership cards and 3 staff members arranging my transport, luggage and a farewell chat with what seemed to be more of a parting of friends, even that felt good!
I cannot recommend this hotel enough and urge everyone to go and experience it themselves.  However, you may bump into me if you do as I will definitely be returning.
Jane Higgins – April 2015 – Burbage