Thanks to the tour operator If Only, I was fortunate enough to join a group of agents travelling to Abu Dhabi (Capital of the United Arab Emirates), I flew from London Heathrow with Etihad, what a wonderful airline…. I flew in economy both there and back, the legroom was generous, there was great selection of the newest films from 2018 to pick from, the food was nice, and the staff were so friendly. The flight duration was just under 7 hours each way. Etihad offer 4 different cabin types, Economy class, Business class, First class and The Residence. The Residence is a suite in the sky, it consists of 3 rooms (living room, bedroom and an en-suite shower room) giving a couple their own privacy to relax and enjoy the flight. I would recommend Etihad as an airline.
Hotels stayed in
Rotana Saadiyat
The Roatana Saadiyat is located on Saadyiat Island around 30 minutes' drive from Abu Dhabi airport, this is a great family hotel with excellent children's facilities. The hotel has 7 dining options that offer a range of culinary delights. If guests want to treat themselves there is a lovely spa at the hotel offering a range of treatments. The hotel is located on Saadyiat Islands 9km white sand beach which is not to be missed.
The Ritz Carlton Abu Dhabi Grand Canal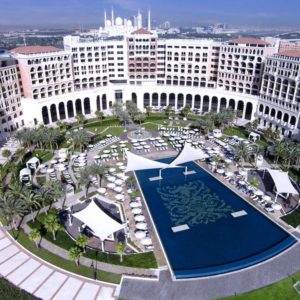 The Ritz Carlton is located on the Grand Canal, from this hotel you can see stunning views of the Sheikh Zayed Grand Mosque. This is a very large hotel with over 530 rooms. The hotel has 8 dining options including different speciality restaurants from around the world. The hotel is located around 15 minutes from Abu Dhabi Airport. The hotel has a spa and fitness centre and it also has 2 pools and a jacuzzi.
Yas Hotel
This hotel is famous for being located on the Abu Dhabi Formula 1 Grand Prix Circuit, located on Yas Island this hotel is around 10 minutes' drive from Abu Dhabi airport. This hotel is more of a corporate style hotel attracting both business and leisure guests. This hotel is a great base for an active holiday as all the theme parks are located on Yas Island as well as driving experiences that can be purchased at the circuit. This hotel has a roof top pool and you gain complimentary access to the Yas Beach club. The hotel has over 11 bars and restaurants including the Empire nightclub for those wanting to party until late in the evening. There is a complimentary shuttle bus service from this hotel to many attractions on Yas Island so there is no need for taxis in and around Yas Island.
Site Inspections
I visited a few different hotels while I was in Abu Dhabi, so we could complete the hotel site inspections.
Zaya Nuri Island
This hotel is located on its own private island, to get to this island it is around a 30-minute speed boat transfer from the main land. This hotel is made of suites and villas the largest villa being a luxury 5-bedroom villa which can sleep 10 people. All Villa and suites are equipped with bicycles, so guests can ride around the island. The island has a Seafood restaurant, Mexican restaurant and a Gourmet International Brassarie, while on the Island guests can also pay for private dining experiences such as private BBQ's private beach dinners. There is also a children's club and children's activities such as a flowrider and slides to keep them occupied.
Shangri-La Hotel & Traders Hotel
This hotel was one of my favourite hotels, a lovely well-presented 5* hotel, it is Arabic themed and very tasteful. This hotel has over 210 rooms ranging from standard rooms to presidential suites. This hotel has over 7 restaurants for guests to choose from including a buffet restaurant service a variety of international cuisine. This hotel is well known for its award-winning Vietnamese Restaurant Hoi An, its well worth a visit. The hotel has a lovely man-made beach area on the edge of the Grand Canal and some parts of the hotel you can see stunning views of the Sheikh Zayed Grand Mosque. This hotel is linked to the Traders hotel via a souk and man-made waterways. The Traders hotel is a modern well decorated 4* hotel with its own private beach on the edge of the Grand Canal, it has over 300 rooms and has 3 restaurants and bars, guests staying in the Traders hotel can pay to go into the speciality restaurants at the Shangri-La hotel if they want to.
Fairmont Bab Al Bahr
This hotel is a large hotel with over 365 rooms, it sits on the Grand Canal approx. 15 minutes from Abu Dhabi Airport. This hotel has 8 bars/restaurants including the Michelin Star Marco Pierre White Steakhouse & Grill. Water sports such as diving & kite surfing can be done here too. The hotel offers an Olympic size swimming pool for guests.
St Regis Abu Dhabi
This hotel is located in the Corniche area of Abu Dhabi approx. 40 minutes from the airport. Corniche is more of a built-up area with high rise buildings. This hotel is made up of 2 towers, 49 floors high, none of the rooms have balconies at this hotel they have floor to ceiling windows. The hotel has 9 bars/restaurants for guests to choose from when staying on a half board basis. There is a lovely spa at this hotel with jacuzzi and 2 swimming pools, the St Regis also has its own private beach. This hotel also has a marble air-conditioned tunnel that links to the Marina Mall.
While I was in Abu Dhabi I also visited Ferrari World and Warner Bros.
Ferrari World
Ferrari World is an indoor theme park with everything Ferrari, it is for car enthusiasts and adrenaline junkies, there is something for everyone. It has the world's fastest roller coaster (Formula Rossa) which has a speed of 0 to 240km/h in 4.9 seconds. There are simulator type rides as well for people who are not into roller coasters. People
can also enjoy driving experiences at Ferrari World.
Warner Bros. Abu Dhabi
Warner Bros is an indoor theme park fully air conditioned, you can meet your favourite characters from Tweety Pie & Sylvester to superhero Characters. At Warner Bros there are many simulator rides as well as fast roller coasters, Warner Bros is split into different lands: Bedrock home to the Flintstones, Gotham City home to Batman and other super villains, Cartoon Junction, Dynamite Gulch a cartoon land based in the south west American Desert, Metropolis the city of Tomorrow where you will find Superman, the Green Lantern and other Characters & Warner Bros. Plaza home to Hollywood Boulevard. This is a great day out for all the family and I would recommend it.
All in all Abu Dhabi has something for everyone, from couples wanting to relax in opulent luxury or to a fun filled family holiday.
If anyone wants further information please contact me and I will be delighted to be of assistance.
Kayleigh Allen – Holiday Lounge Burbage
Telephone: 01455 610734 Email kayleigh.allen@holidaylounge.co.uk